Mitch Maracle – Mineral Exploration Field Technician
This summer I worked for Big River Mineral Exploration, a newly formed exploration work placement company; owned and operated by the local first nations group, the Nacho Nyak-Dun in the Yukon.
I found this job through my professor Joanna Hodge, who was contacted by a graduate of the Earth Resources Technician program looking for potential applicants. This connection greatly showcased the importance of networking to me, and the value that alumni and future students add to the ever-growing Fleming College network­.
The scope of mineral exploration is very broad, and because of this so were my responsibilities and day to day tasks. I began initially by soil sampling and staking claims for different companies that contracted Big River. Before beginning I received bear awareness training, chain saw training, GPS and compassing training. Additionally, I was taught proper soil sampling, and staking procedures, to both gather correct samples and properly claim surface and bedrock rights.
I later found myself contracted out to another company Victoria Gold, which is currently the only operating mine in the Yukon. I worked at Victoria Gold as a drill hand for a reverse circulation drill (RC Drill), sluice box operator, and gold panner. You read that right, just like what you see on those gold rush television shows. I found myself sluicing and panning for those precious small flakes of gold. However, before I started I received a full days' worth of safety training. Along with wearing proper PPE, they went into as much safety protocols as how to properly park your truck on site. That included backing your truck into parking spots, putting it in park, using the E-brake, and chocking your wheels. Let's just say when it came to safety, all bases were covered.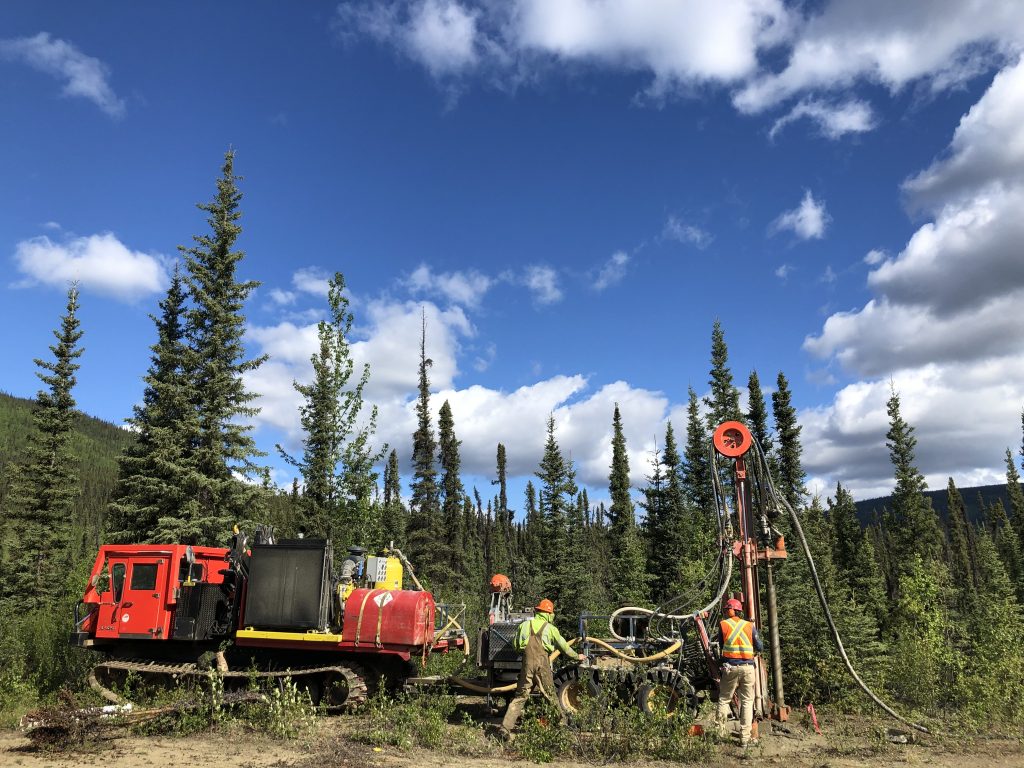 After the Victoria Gold contract ended, I went to Cantex, where I spent the majority of my summer. Instead of the traditional drive to the new job, I took a bush plane an hour North of the small village of Mayo, then transferred in a field air strip to a thirty-minute helicopter ride further into the mountains. Here I lived the typical exploration workday. I was primarily a Geotechnician; that is, I helped tech and log core that we received from the drills. For this I learned how to properly document and sample the core (also how to move a lot of core boxes!). I was responsible for documenting the core. Cantex is where I found out that to be a geologist you can't just be a rock-hound, you need to be a jack of all trades. I core cut, built structures for camp, tiled floors, was camp cook for a day, surveyed drill pad locations, built and took apart drill pads, and was a drillers assistant. All of these responsibilities were vital to the exploration process (especially the cooking part). If I had down time, I would be helping out with the plethora of other tasks that needed to be done at camp, and if I was lucky maybe sneak in a chapter of my book.
My favorite part about work this summer was travelling, and the academic aspect involved working in the core shack. I used a great deal of my schooling and learned a great deal more interpreting minerals, and varying rock features used in economic geology. Overall, my co-op work experience has only reinforced my interest in geology and the learnedness that comes with the field of Earth Sciences. Specifically, I found my interest lay in the field work involved with mineral exploration, and the academic aspect of interpreting these findings. My co-op gave me experience in the geology field and allowed me to analyze what aspects of Geology I enjoy most. Once I have graduated the Earth Resources Technician program I hope to further specialize in geology and further my schooling, and possibly find work for a Geological Survey.
---
---