Emile Beaudoin – Mineral Exploration Technician
For my co-op work experience I worked for SilverCrest Metals Inc; a Canadian precious metals company based out of Vancouver. They target Mexico's historic precious metals district. The Company is led by a proven management team in all aspects of the precious metal mining sector. I managed to land this co-op after getting interviewed at PDAC 2019, a field trip I got to take with my ERT program. My father played a large role in getting me close to landing that interview, after that I just had to prove I was right for the job.
I worked 4 weeks straight in Sonora Mexico with 2 weeks of break in-between rotations, 2 of those break days were spent travelling to and from Mexico, but that's alright since I love travelling. I worked those rotations from May until October, although some rotations had to be longer or shorter due to flight availability. I worked in a late exploration stage site, meaning that a significant amount of resource building and exploring was happening whilst developing towards the underground targets. I spent most of my days core logging, and I had never core logged before that. I spent my entire time trying to better understand the numerous lithologies and types of precious minerals I was working with. This proved to be a serious challenge since I had no experience working on a mine before this, not to mention the communication barrier, since I do not speak Spanish very well. I was on site from 7 am to 4 pm logging hundreds of meters of core. Every day I learned new things that were important for my logs. I also started to pick up on Spanish more quickly than I imagined.
The equipment I used for core logging was very simple; a pencil, a clipboard, a protractor, a hand-lens, water and hydrochloric acid in a little bottle. Some days I was going to pick up the core boxes from the 17 operating drill rigs on site, this meant driving a truck up some very "spicy" roads as we like to say all up and down the mountains. On this site I found out quickly that driving is the most likely chance of me getting injured, and no not the scorpions or any other surprises the Sonora desert had in store for me. Some of the early exploration roads demanded 110% of your focus to be able to safely drive them. A driving seminar was given to make sure I was capable of driving on site.
Another fun experience I got to do was exploring an area nearby for samples. A small team and I hiked out into the desert to go collect samples to give us an idea if there could be something interesting. This was a test for me, and I was set on proving myself, it was a truly harsh hike through the Sonoran environment, not to mention the raging heat and the weight of the bags I was carrying. After a full day of fun in the sun we got our samples and I was proud of myself.
One of the best parts of the job was being able to go underground. Underground was not exactly how I imagined it to be, it's a lot darker than expected and about 10 times hotter. I had to take on strict safety training and PPE training to be allowed to gain access to the underground. I learned how to use an emergency self-respirator, a rather heavy device I had to attach to my belt in case a fire would happen while I was underground.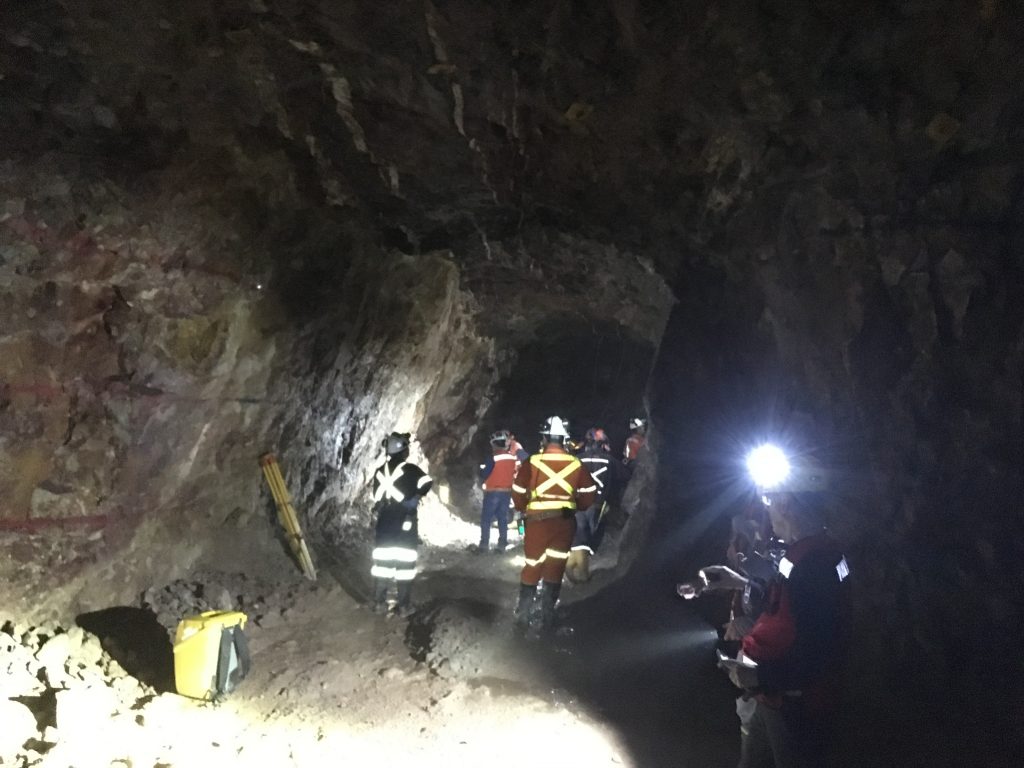 My responsibilities were simple, do my job safely and work hard. I took on every challenge they could give me and was always keen on trying a new task. Core logging was my greatest responsibility, my reports and samples were most important to the company. I was also given the task of quick logging core; this was very quick method of core logging. Essentially a paragraph worth of information for every new core box we would receive during the day, so 15-17 quick reports a day. The reports consist of the drill it came from, its depth drill, lithologies encountered, veining, alterations and anything else that stood out. This report was sent daily so that the exploration leaders could get a quick view on what we were hitting underground.
One of my favorite parts of the job was being able to finally see all my work come together during the resource building. This is what it was all leading towards, the beginning of an understanding for what is below us and what it could all be worth. Resource building is tedious and intensely strict, nobody wants to make mistakes during this stage of a mine. I also had to opportunity to continue helping build the resource for a week in the head office in Vancouver. This was a great change of scenery, but it was rather short lived. Working in an office is night and day in comparison of working on an exploration site. Vancouver was my favorite experience. I got to meet some great people and the opportunity to see the corporate world of mining, I highly recommend.
The main aspect that is inspiring me to continue in the mining sector is the potential for wealth and a stable job anywhere in the world, not to mention the traveling and the people you will encounter. In a sense this co-op has strongly motivated me to keep studying to join the industry, however this co-op has also completely solidified the idea that I do not want to become a geologist but rather a mining technician.
This co-op is the large majority of what I know about the sector, before this co-op I had just about no understanding as to how an exploration site operated or a mine site. I have learned more during this co-op than I ever thought possible, from the tiniest details of mineral to corporate responsibilities. My knowledge now is far wider then I ever thought I would get out of college.
Once I graduate I plan on going to another college to become a mining technician. The Earth Resources Technician program has provided me a good starting point for furthering my interest in a mining career.
---
---